At Kingdom of Pets we're not just animal experts,
we're animal lovers too.
The place for online obedience and health care training for your pet!
Kingdom of Pets is your ticket to:
TRAINING your Dog or Cat effectively
CARING for your pet's health needs
UNDERSTANDING why your pet behaves the way they do
NURTURING a life-long relationship with your pet that you'll cherish
Try our FREE 6 Day Course!
Get the FREE Secrets to Dog Training 6 Day Course!

People Love Kingdom of Pets. You will too!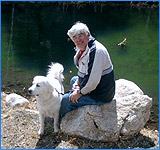 Doug Cummins (Nebraska, USA)
"Hi, I bought the online book Secrets To Dog Training, because I have a big Guardian dog, and she was very aggressive to strangers in our house. I knew she could be trained because her mother was not aggressive. I got several good tips from the book as well as a personal email on how to correct her behaviour.
It worked and she is now much much better. I am very pleased and satisfied I bought the book. Thanks a bunch Daniel for doing what you do."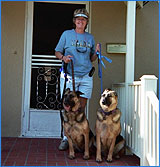 Carla J. Johnson (Long Beach, California, USA)
"I love Secrets to Dog Training. I rescued two German Shepherds and I did not know anything about dog obedience. One of my dogs was quite aggressive with other dogs, and crazy about chasing cats and squirrels. What I like about your book is that you give insights into what the dog is thinking, why they behave the way they do, and tips on what to do to correct the problem.
I have learned so much from your instructions, and my dogs are now following my commands and I am able to control them. Thanks for the great book."
Get the FREE Secrets to Dog Training 6 Day Course!
All you need to understand, train, and care for your pet the way they deserve!

The internet's #1 dog obedience training and behaviour resource.

All you need to know to keep those doggy messes outside where they belong.

Inside information about caring for the health of your dog.

So you can share triumphs, issues, hints, and tips with other dog and cat owners.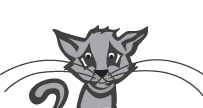 Complete Cat Training and Care you need for a happy, healthy, well-behaved cat.

For your own world-beating aquarium, and thriving tropical fish.
Get the FREE Secrets to Dog Training 6 Day Course!